Tuesday marks a year since a tornado tore part of the roof off a Chesterfield County department store as Robin Logue huddled in a break room with customers and employees.
Logue, an assistant manager at Gabe's, wiped tears from her eyes Monday as she recalled how the Sept. 17 tornado last year hit businesses along Hull Street Road. At a nearby flooring company on Speeks Drive, a longtime employee lost his life.
"It feels like it happened yesterday," Logue said. "It took me over two hours to get home [that day] and I live 10 minutes from here. … I couldn't stop crying once I got home for over two hours."
The tornado that struck Gabe's was one of 10 that ripped through Richmond and the counties of Chesterfield, Henrico, Hanover and Powhatan amid the remnants of Hurricane Florence.
Two other deaths were attributed to Florence that day. A man drowned in Louisa County after his pickup truck was caught in floodwaters, and in Roanoke, a 53-year-old woman drowned in the Roanoke River, according to the National Hurricane Center.
In Chesterfield, 60-year-old Ronnie Bishop ensured that the warehouse of Old Dominion Floor Co. was empty before the tornado struck. He was later found dead in the collapsed warehouse.
Bishop, the company's hardwood floor supervisor, was remembered in the days after his death as a dedicated employee who was loved and respected and came from a long line of carpenters.
Jeffrey M. Stoker, who owns Stoker Construction right next to the flooring company, recalled seeing the cylinder-shaped, white-and-gray tornado that left steel bars from the roof of the flooring company's warehouse scattered in front of his business.
Stoker said the loss of life would have been much greater if the tornado's path had shifted toward his building — which houses several other businesses — or more toward the office building for Old Dominion Flooring.
"We were all very fortunate that day, except for Ronnie," Stoker said.
Stoker's company rebuilt Old Dominion Floor's warehouse. On Monday, there was little sign there of the destruction the tornado had wrought.
But one block over, on Hull Street Road, the building that housed St. John Furniture remains partially collapsed and surrounded by yellow tape.
Roger St. John, who co-owns the building with his wife, said the store is still temporarily out of business, adding that he was planning to meet with an architect to discuss rebuilding the structure.
He recalled that on the day of the tornado, he had been getting weather alerts on his cellphone. He and his wife fled in a truck as the tornado approached, and it hit the business minutes after the couple left, St. John said.
"When we came out, you could just see it — [it] was the strangest thing I'd ever seen. ... The wind was just moving in an odd direction," he said.
John Marshall and Wiley Hunnicutt were planning on staying late at school on the night of Sept. 17, 2018.
It was the annual Back to School Night at Freeman High School — a time for parents to meet their students' teachers from 6 to 8 p.m.
"It was a normal day," recalled Marshall, who was then an assistant principal and is now principal. "And then it wasn't."
Marshall and other school administrators were alerted in the afternoon to severe weather in the area. Henrico's school system, like others in the region, canceled after-school activities at about 2 p.m., just before the first tornado warnings were issued.
Freeman hadn't yet released the school's roughly 1,800 students. With a tornado potentially headed directly toward the school, students sheltered in place. The hallways of the high school in western Henrico suddenly filled with students and teachers who were getting away from the glass windows.
Hunnicutt, a 20-year education veteran, tried to have normal conversations with her creative writing students as they sat in the front hallway of the school. The students had their phones and regularly received weather updates as they sat in the hallway for hours after their planned 3:55 p.m. dismissal.
A rush of wind came through the downstairs hallway, enough to lift clothing and raise hair.
"At that point, I knew whatever it was had come really close to the school," Hunnicutt said. "For all the things we prepare for and have to be scared for in schools, I never thought it would be a tornado. It was legitimately frightening."
The students were calm through it all, the two educators said.
"Our students were remarkably well-behaved," Marshall said. "They knew the seriousness of it."
Except for some water damage, the high school went unscathed. Students were allowed to leave about 6:30 p.m., the time they were originally scheduled to be showing their parents their school.
By 8:20 p.m., buses had dropped off every student in the county.
In Chesterfield, buses had left their middle schools after the 2:05 p.m. end of the school day and were sent back to their schools or to safe structures, such as churches. Students at most middle schools and some elementary schools were released about 4:45 p.m., but the tornado threat meant other schools did not start releasing students until shortly after 6:30 p.m. The last Chesterfield buses left schools about 8:15 p.m.
Chesterfield schools spokesman Shawn Smith said no one at Cosby High School or Bailey Bridge Middle School, two schools near one of the tornadoes, was available to speak about the day.
Richmond and Hanover also held students after normal school hours and sent them home about the same time as Henrico and Chesterfield.
Since the initial storm reports last September, the number of confirmed tornadoes has increased by one — 10 in the metro Richmond area and 11 statewide.
According to the National Weather Service in Wakefield, that afternoon involved a second tornado in Hanover, between Mechanicsville and Ashland.
Based on video evidence that arrived after the initial round of on-site surveys, the weather service confirmed that a tornado briefly touched down near Atlee High School. The tornado did not cause damage or injuries and was rated EF-0, with winds from 65 to 85 mph.
The other Hanover tornado left only minor damage to trees and a shed in the Rockville area.
Five of that day's tornadoes struck the city of Richmond, with most damage caused by falling trees.
Videos on social media also showed a funnel cloud or tornado near Richmond International Airport in eastern Henrico. Despite searching for damage in the days after the storm, the National Weather Service team could not confirm a touchdown in that area.
Chesterfield Fire and EMS responded to 70 incidents involving the Sept. 17 tornadoes, including 14 reports of trees in houses, according to Lt. Jason Elmore, spokesman for the department.
Elmore was at the scene of a storm-related car crash in the Hampton Park neighborhood when the call went out about serious damage along Hull Street Road.
"We were extremely fortunate not to have more injuries, even at the Old Dominion Flooring Company," Elmore said.
Despite two long tornado damage paths across the county — one 9 miles and one nearly 8 miles — there were no serious injuries reported elsewhere in Chesterfield.
Early warnings may have kept some people off the roads and prevented more accidents, but Elmore said it's hard to tell in a situation like that.
Since last September, Chesterfield's Emergency Management agency has outfitted county offices with 65 new NOAA Weather Radio receivers and replaced some older units.
The receivers sound an alarm when an urgent weather warning is issued by the National Weather Service in Wakefield, and are one of a few means by which residents can be notified about dangerous conditions.
"The hardest thing to do is get that info out there quickly," Elmore said. "That's why we have Chesterfield Alert."
Users of Chesterfield Alert can specify whether to get a phone call, email or text message from the county about critical situations. According to Elmore, fewer than 7,000 residents were registered for the service prior to Hurricane Florence, but the number of users rose to 12,000 leading up to and immediately following the storm. To sign up for service, go to Chesterfield.gov/332/Chesterfield-Alert.
On Monday, it looked like business as usual at Gabe's, which reopened in April. There's no longer a hole visible over the men's clothing section that had allowed sunlight to cascade into the store.
Logue, the assistant manager, said an employee for the company who had been outside the store monitoring the weather called her shortly before the tornado hit and urged people in the store to take cover.
Logue said she made an announcement over the intercom telling customers and employees to head to the break room, adding that one customer refused and insisted on being allowed to pay for their merchandise. Logue heard the tornado's approach.
"It was a very loud rumbling noise," said Logue, who added that she and another employee were pressed up against the break room door as the storm passed.
Planet Fitness club manager Verneda Taylor said she had gone to the Dollar Tree in the shopping center to get some snacks just before the tornado hit.
"All of the sudden, the wind picked up and I just saw it come toward me, and then I ran into" Ashley HomeStore, Taylor said Monday.
"They were trying to close the doors, so the doors just kind of blew open. I could see all the debris and stuff come by in the parking lot. ... All of a sudden, as fast as it came, it stopped."
Taylor said that when she got back to Planet Fitness, mirrors that been lining a wall of the gym had fallen off.
"I have a newfound respect for Mother Nature; I will say that," Taylor said.
20180918_MET_TORN_BB01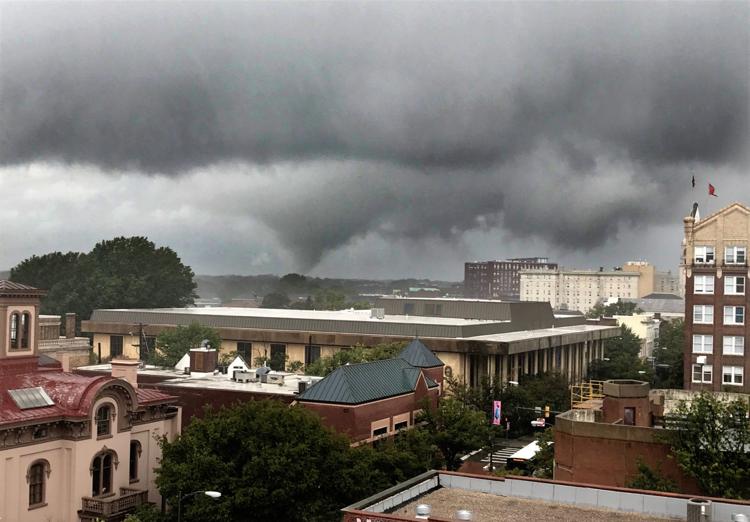 20180918_MET_TORNADO_BB04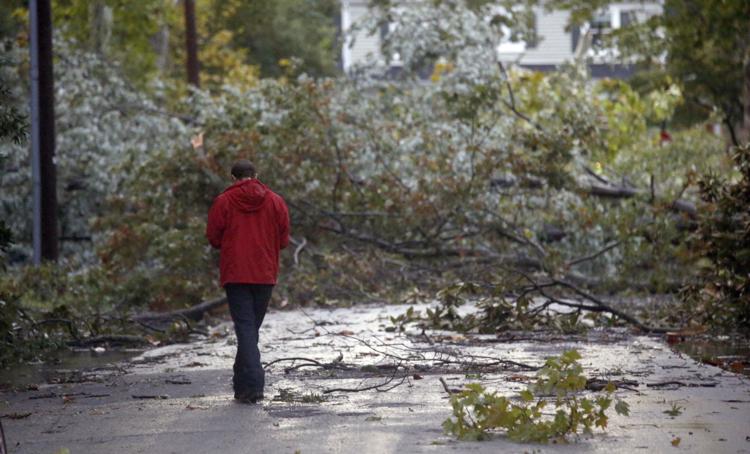 20180918_WEB_STORM_BB01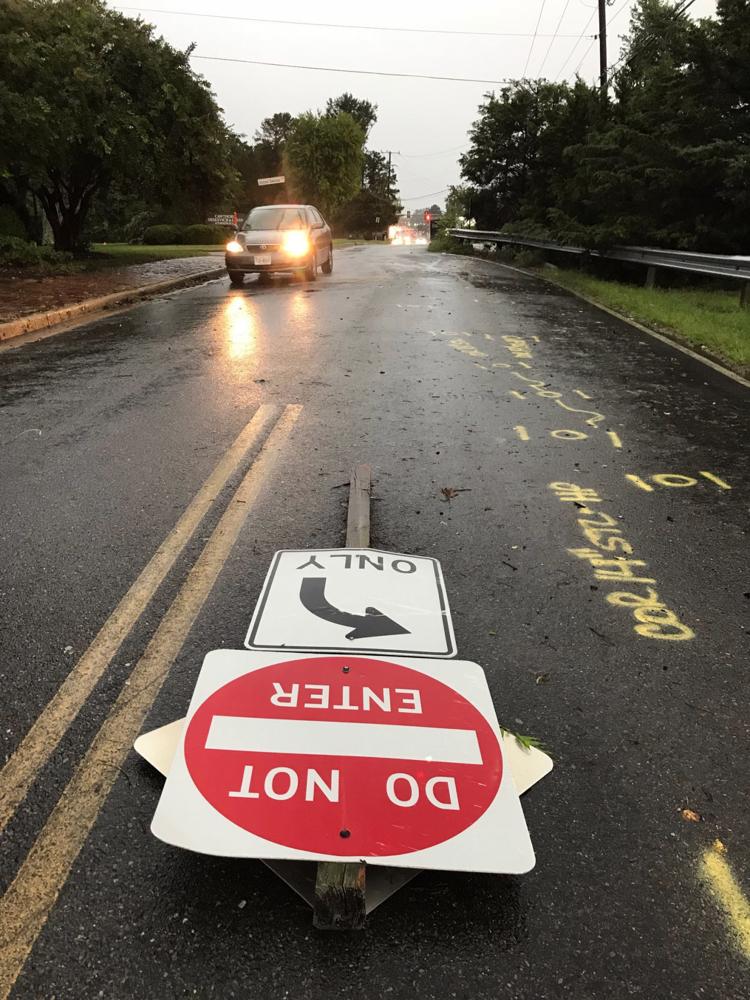 20180918_MET_TORNADO_SL
20180918_MET_WEAT_AWE02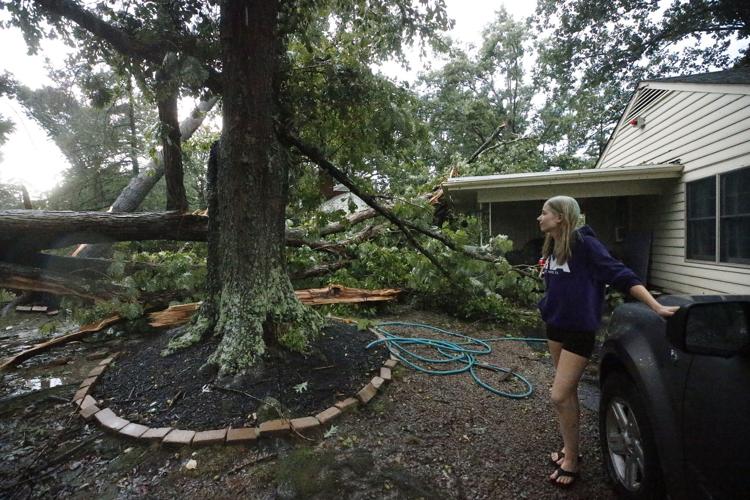 Tornado damages in Chesterfield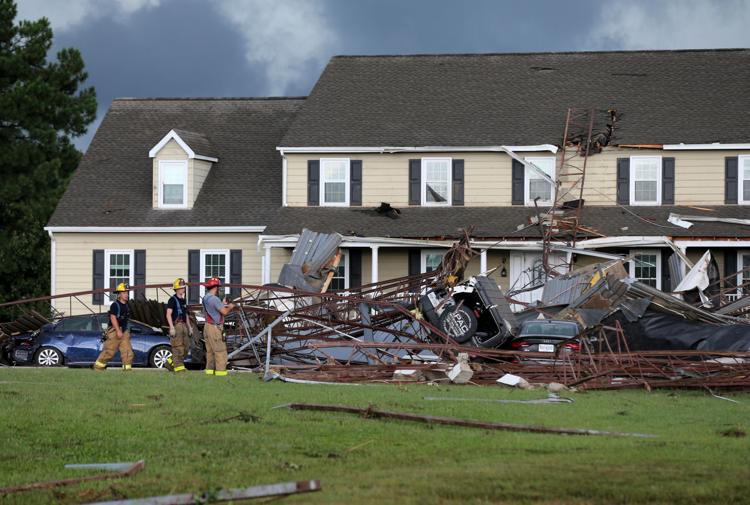 Tornado damages in Chesterfield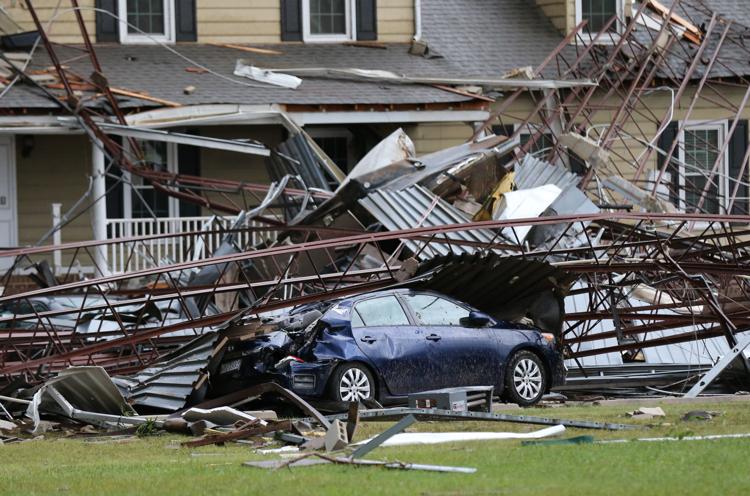 Tornado damages in Chesterfield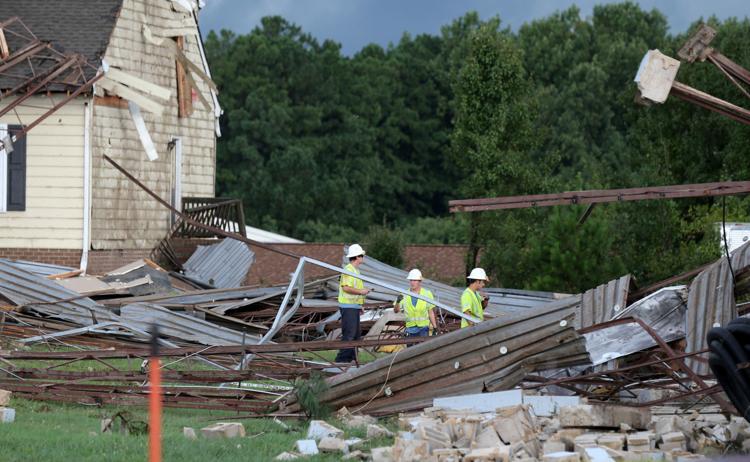 20180918_MET_WEAT_AWE04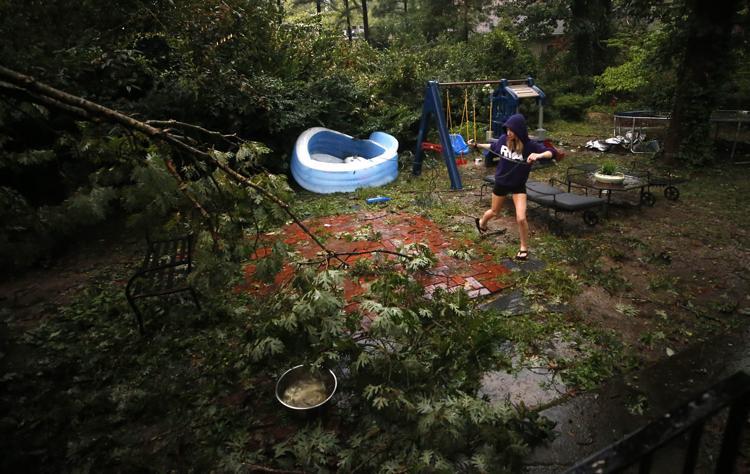 20180918_MET_WEAT_AWE07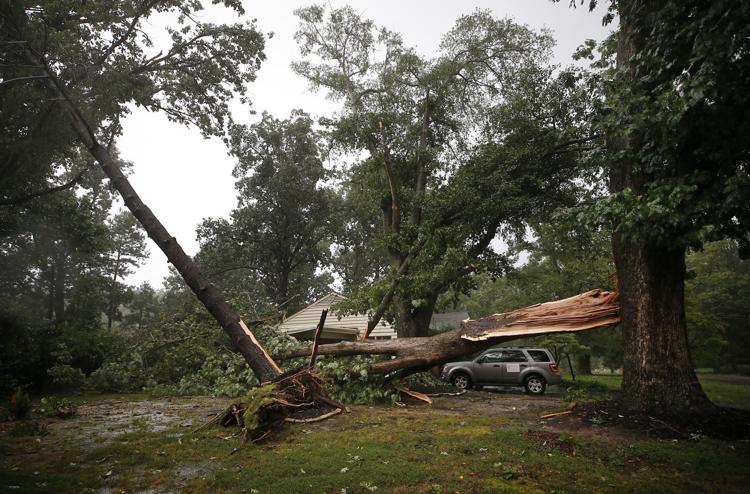 20180918_MET_TORN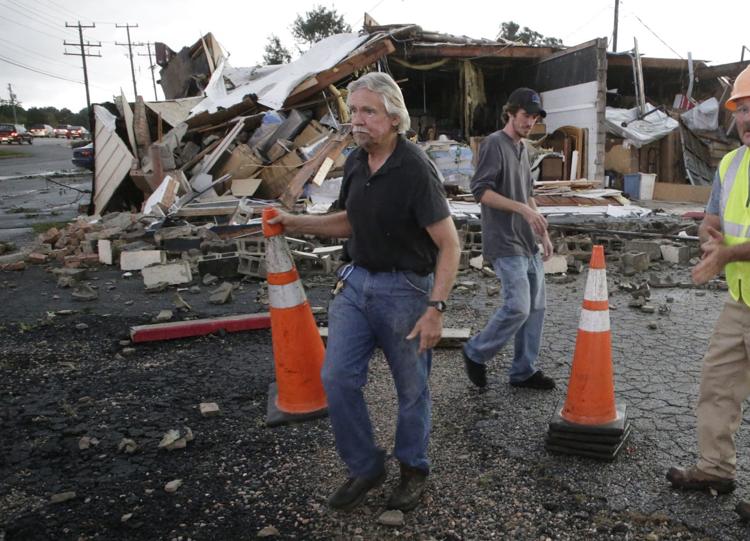 20180918_MET_TORNADO_SL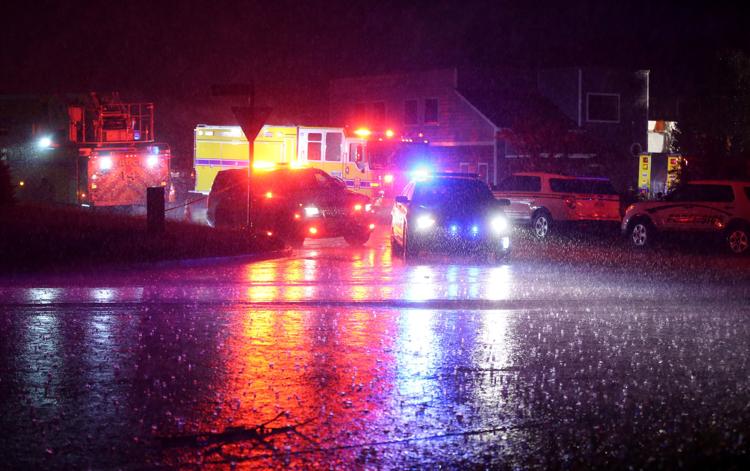 20180918_MET_TORN_DH03
Tornado damages in Chesterfield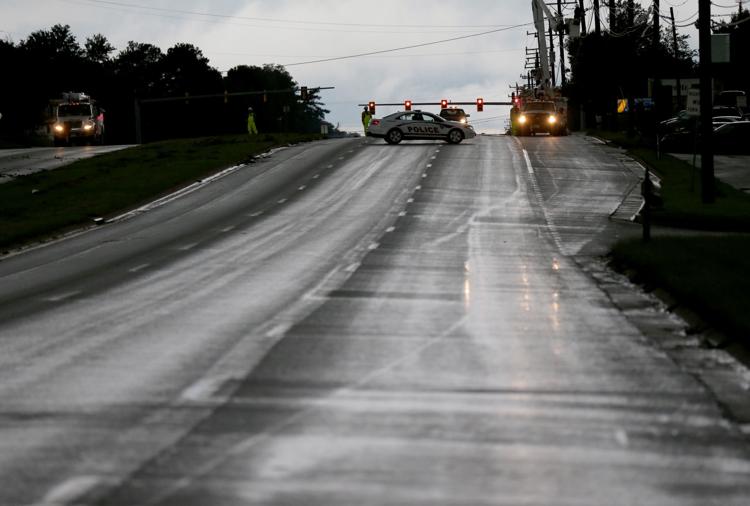 Tornado damage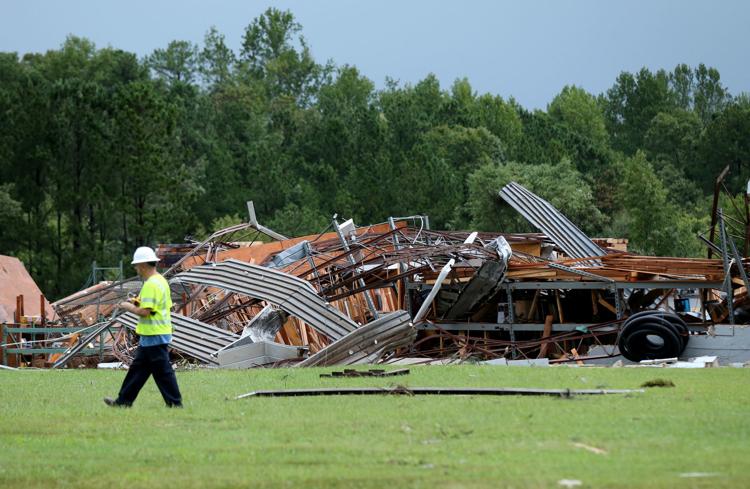 Tornado damages in Chesterfield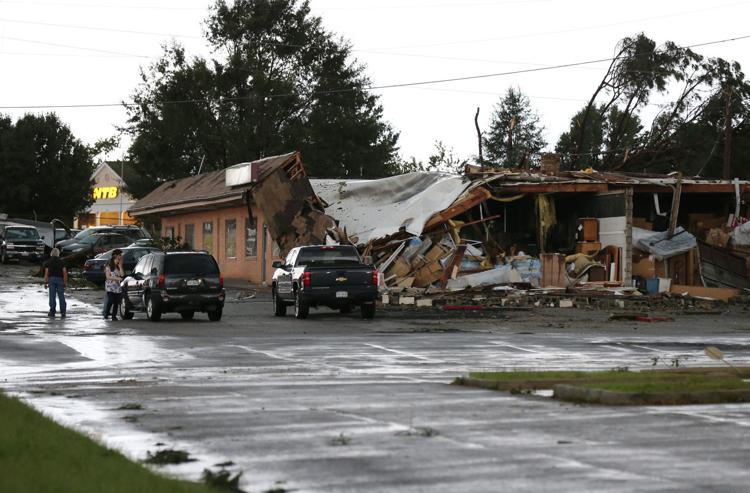 Tornado damages in Chesterfield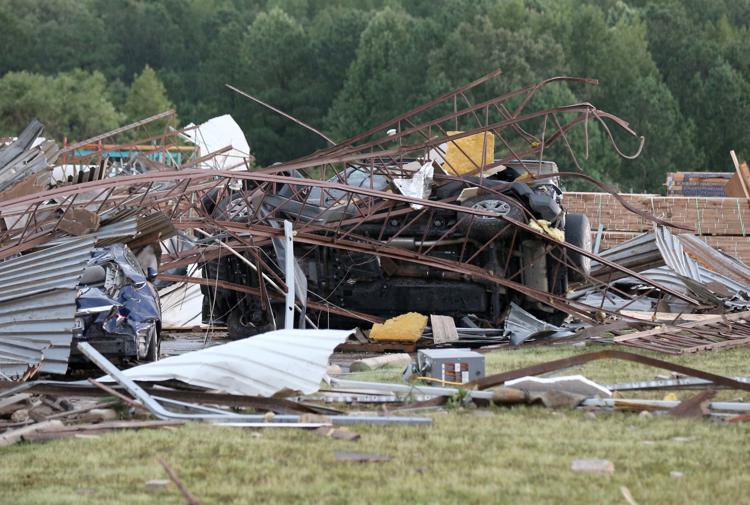 Tornado damages in Chesterfield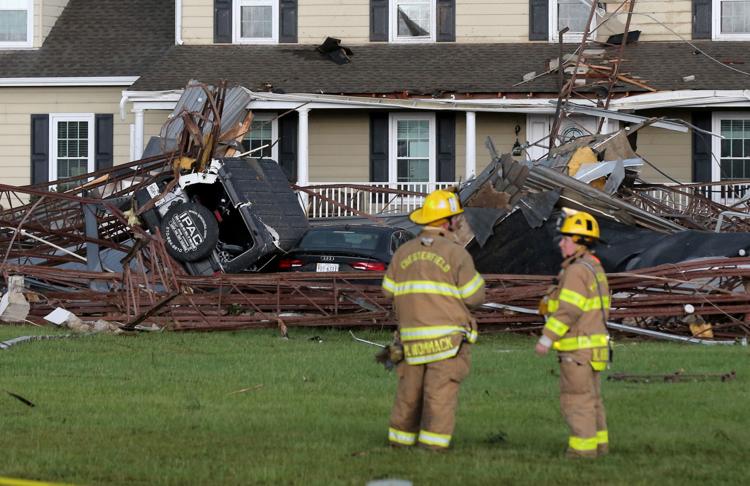 20180918_MET_WEAT_AWE11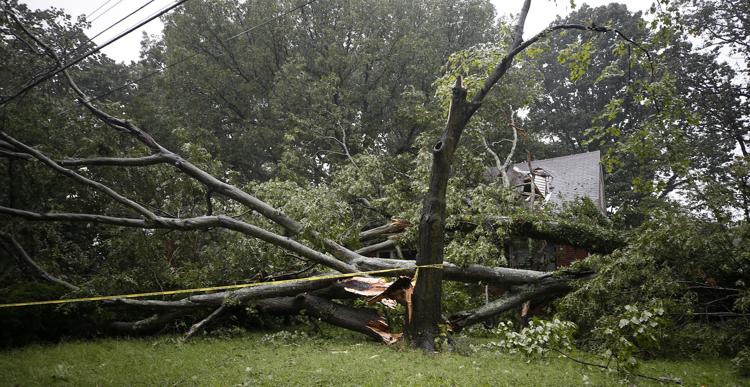 20180918_MET_WEAT_AWE10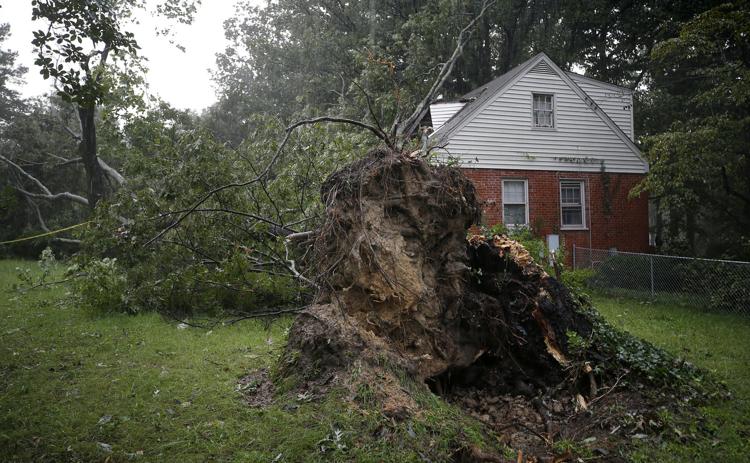 20180918_MET_WEAT_AWE09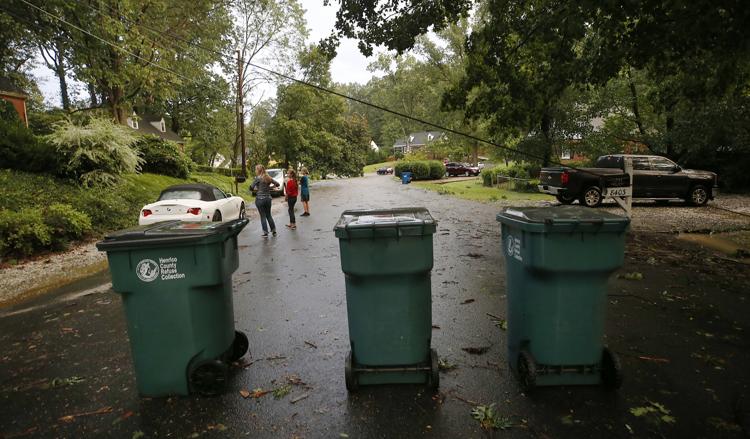 20180918_MET_WEAT_AWE08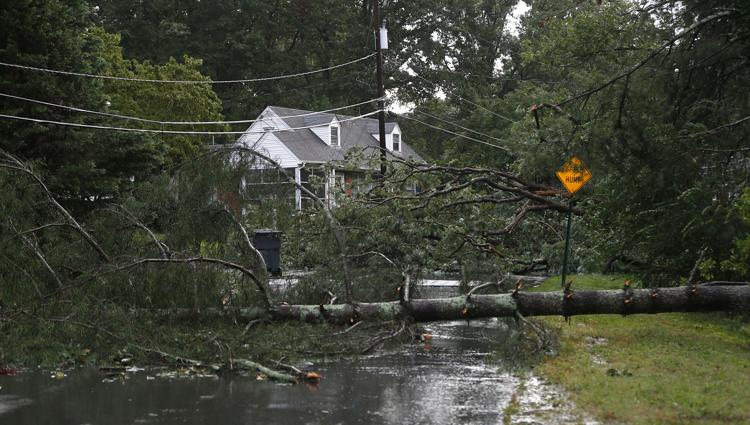 20180918_MET_WEAT_AWE06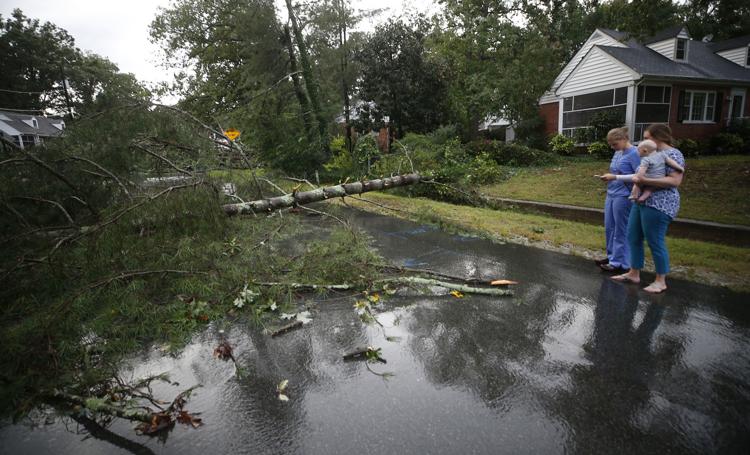 20180918_MET_WEAT_AWE05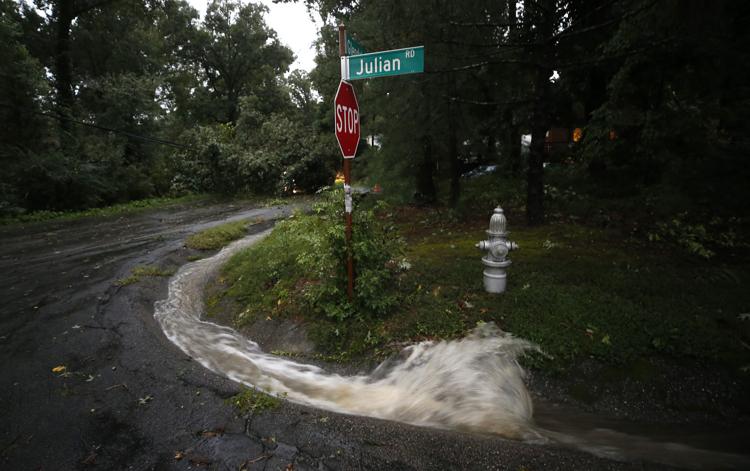 20180918_MET_WEAT_AWE04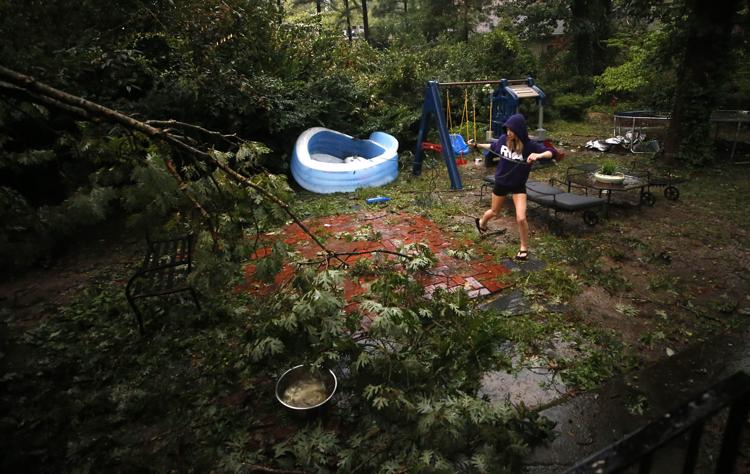 20180918_MET_WEAT_AWE03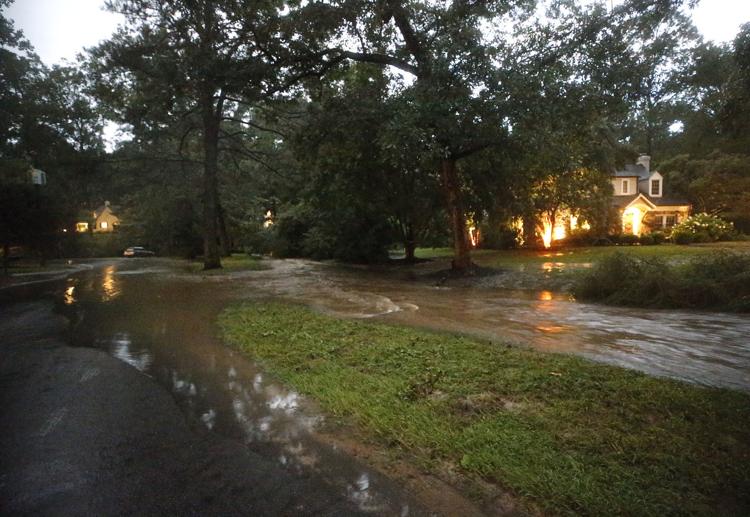 20180918_MET_WEAT_AWE01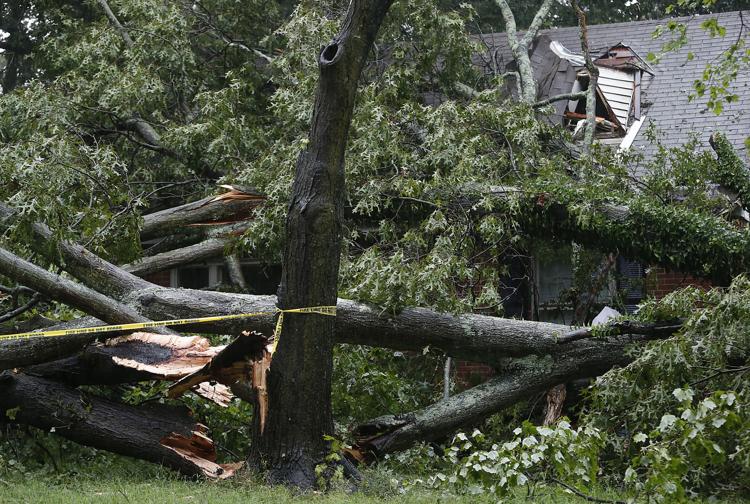 20180918_MET_TORNADO_SL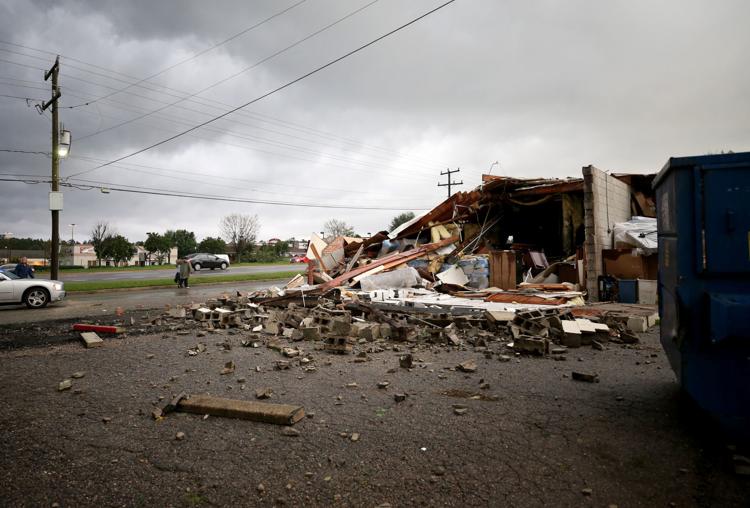 20180918_MET_TORNADO_SL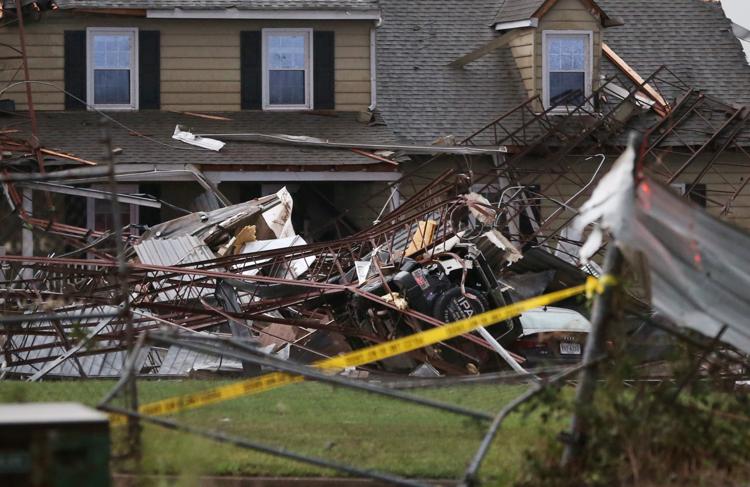 20180918_MET_TORNADO_SL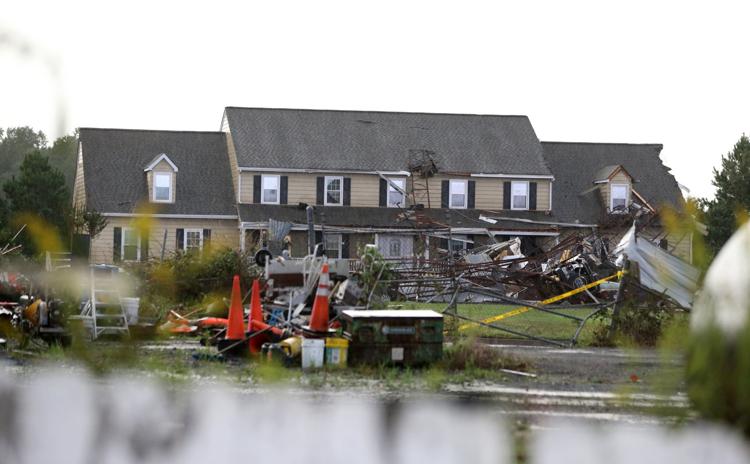 20180918_MET_TORNADO_SL
20180918_MET_TORNADO_SL
20180918_MET_TORNADO_SL
20180918_MET_TORNADO_SL
20180918_MET_TORNADO_SL
20180918_MET_TORNADO_BB07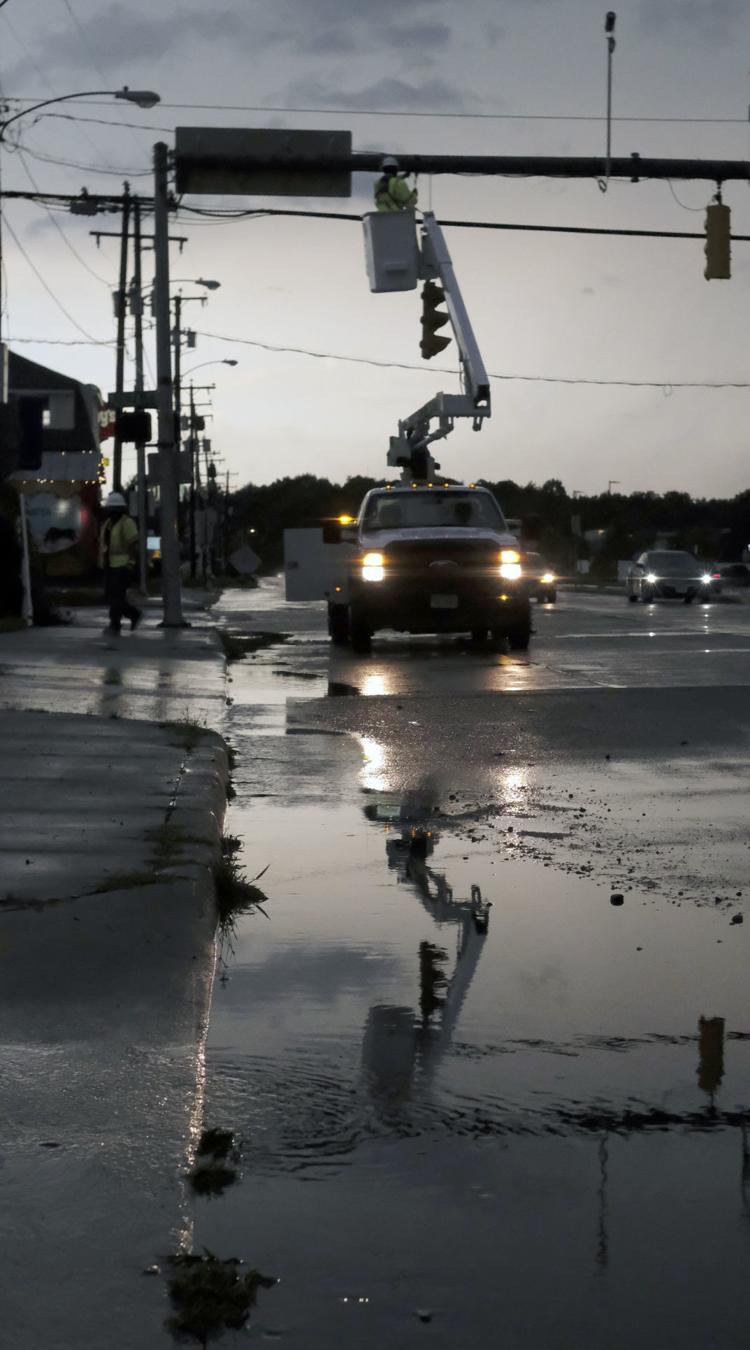 20180918_MET_TORNADO_BB05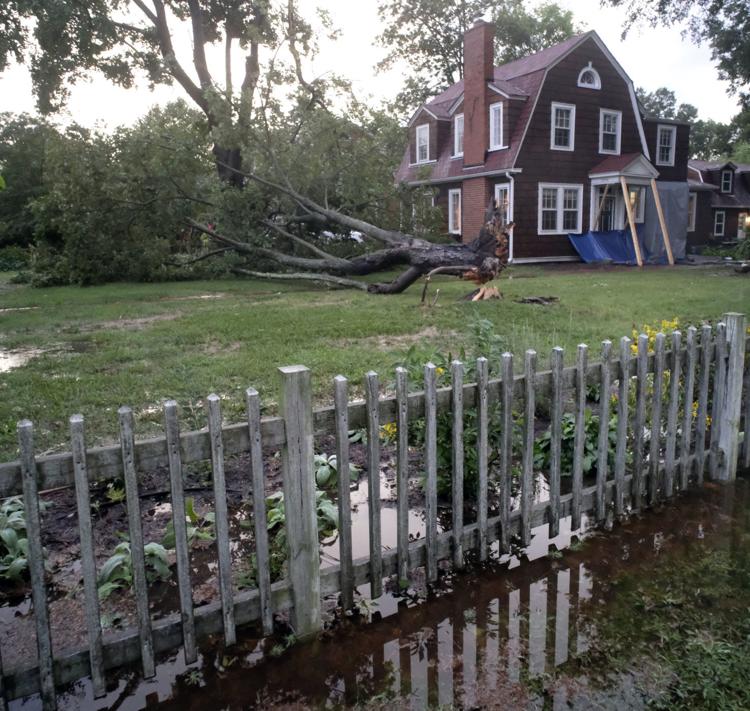 20180918_MET_TORNADO_BB03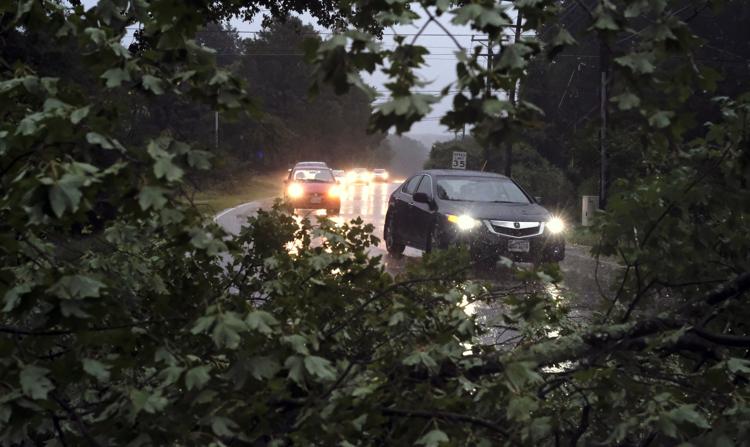 20180918_MET_TORNADO_BB02

20180918_MET_TORNADO_BB01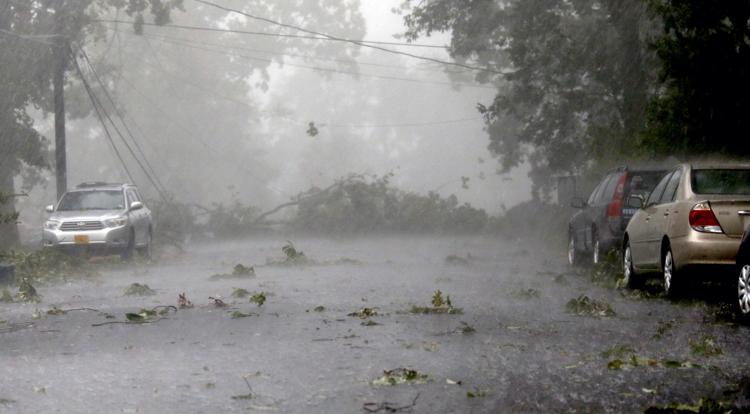 Storm damage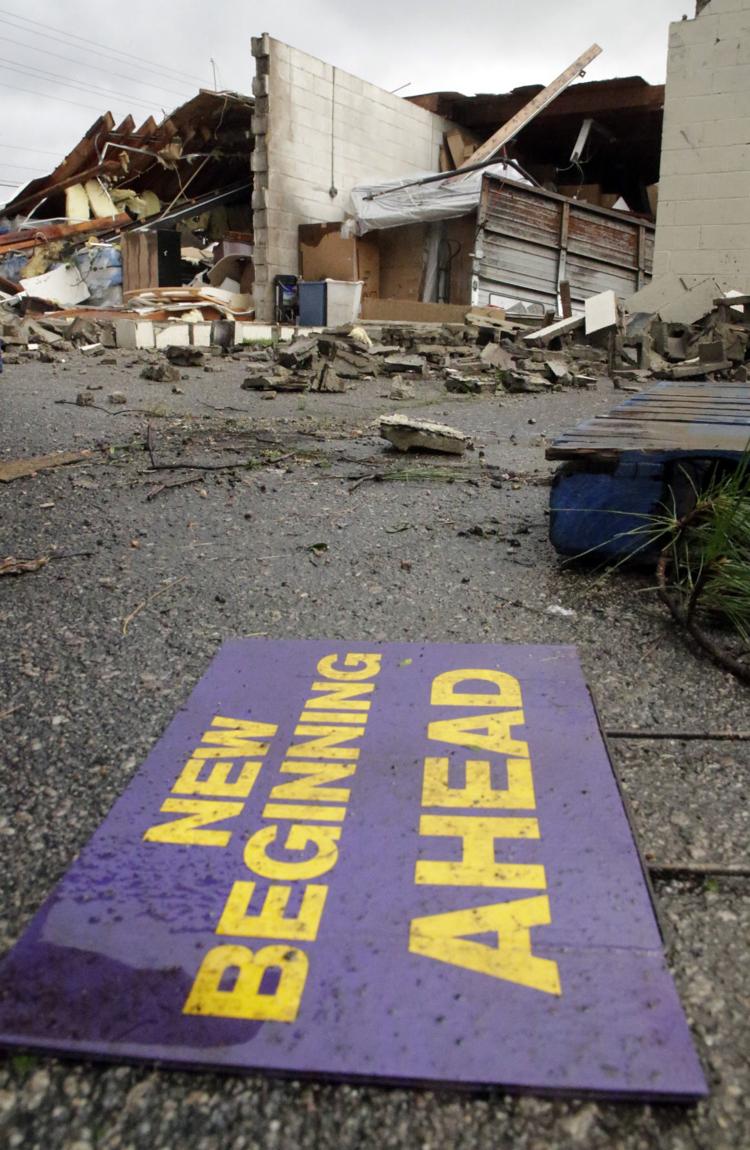 Storm damage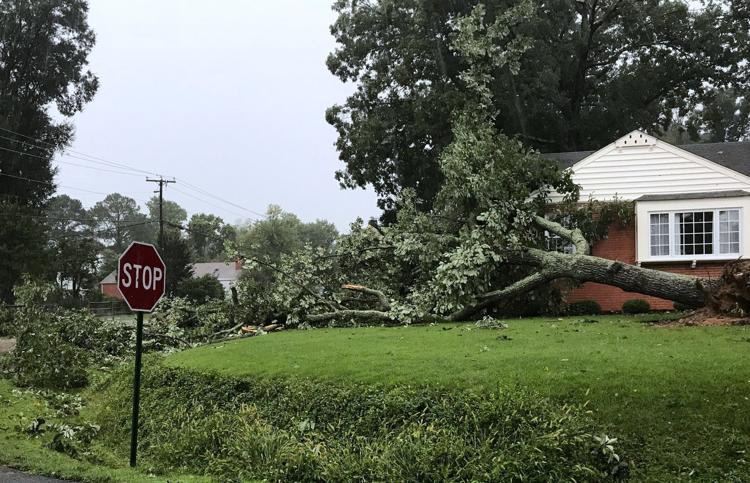 20180918_MET_WEAT_AWE12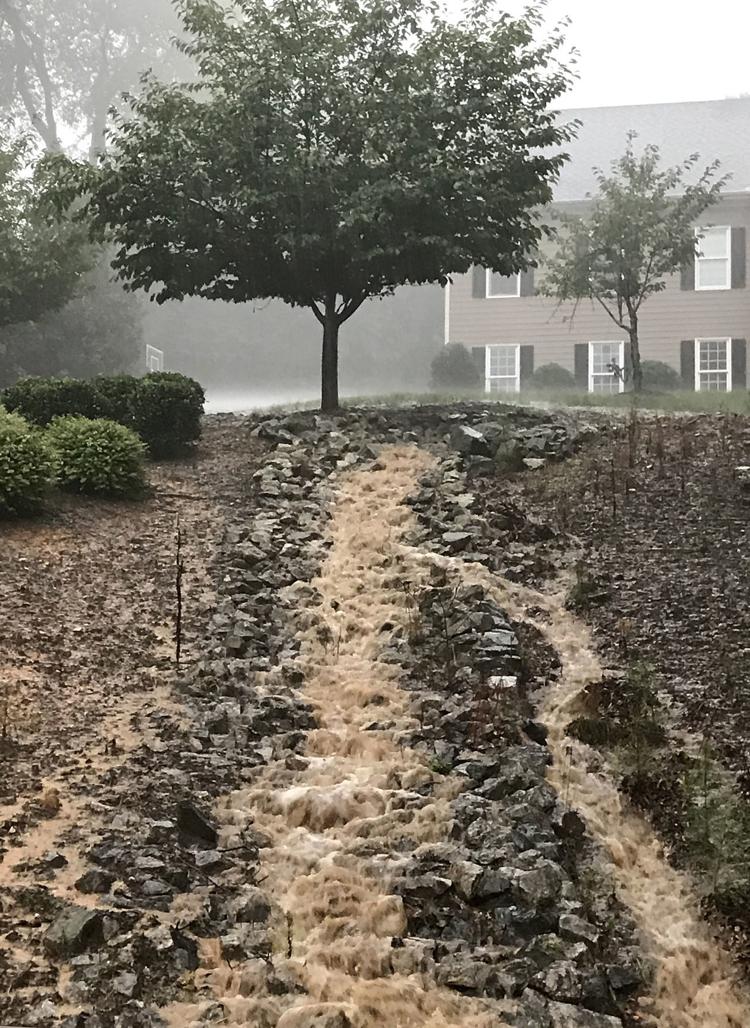 -- HIDE VERTICAL GALLERY ASSET TITLES --