A Spotsylvania County teenager appears to have fallen victim to the giant hogweed plant.
The plant, first positively identified in Virginia last month, secretes sap that can cause burns to the skin, blistering and permanent scarring. The sap also can cause blindness if it contacts the eyes.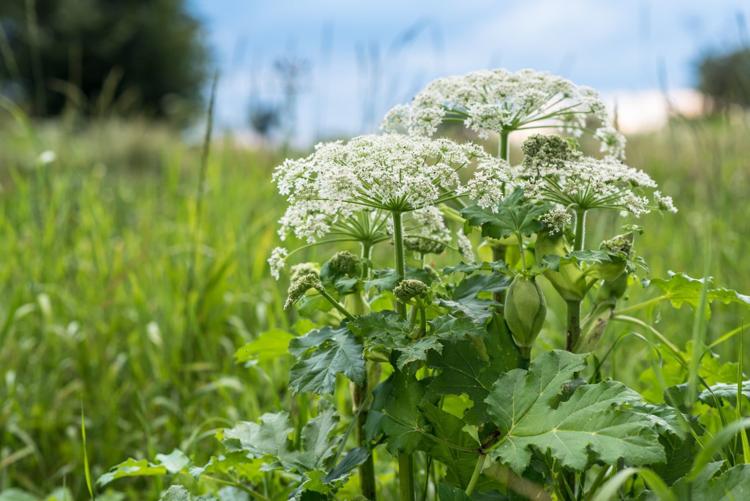 Alex Childress, a 17-year-old Spotsylvania High School graduate planning to attend Virginia Tech this fall, was working at his summer job with a local landscaping company Tuesday when he came across the plant.
He told his parents he was weed whacking Tuesday at The Free Lance-Star's Print Innovators plant on Belman Road in Fredericksburg's Battlefield Industrial Park when he came across a tall plant topped with white flowery blooms, his father, Justin Childress, said in a Thursday interview.
He got a pair of large clippers because he didn't think the trimmer would cut the weed, his father said. Alex cut the weed, which resembles the benign and plentiful Queen Anne's lace, and tossed it into a wooded area. But it brushed against his face and arm.
His father said his son felt the burning sensation almost immediately, but the teen wasn't concerned.
Justin Childress said he and his wife got home around 8 that night and when they asked what happened their son said it was a sunburn.
"It looked like a sunburn," Justin Childress said.
His son told him that when he took a shower his skin peeled off.
His mother, a nurse, looked up the plant online after her son described it. That's when they took him to Spotsylvania Regional Hospital. Doctors there determined he needed to be sent to the burn unit at VCU Medical Center in Richmond.
Doctors at the burn unit said Alex had suffered second- and third-degree burns, Justin Childress said, adding that doctors told his wife the burns likely were caused by a giant hogweed.
Alex was discharged from the hospital Thursday evening.
His father said the burns eventually covered at least half of his son's face and spread from his right bicep down to his forearm.
Alex handled the ordeal like a trooper, his father said.
That doesn't surprise Justin Childress, who pointed out that his son suffered a dislocated kneecap playing for Spotsylvania High's football team this winter and was told it would take seven to nine months to heal. But two months later his son was wrestling, and he ended up placing sixth in the state in the 220-pound weight class. He also ran track.
"I've got to give it to him, he's probably the toughest kid I know," Justin Childress said. "He took it with good spirits."
He said his son's biggest concerns now are getting back to work and whether he will be able to make it to orientation at Virginia Tech, or even attend college this fall.
Justin Childress said his son's knee injury and now the burns are causing issues with his son's ROTC scholarship and plans to join the U.S. Army. He said his son will need a doctor's clearance for physical activity.
The burns from the plant can cause UV light sensitivity, something Justin Childress said impacts some people for as little as two months while others can suffer symptoms for years.
"It's hard to be in the military if you can't be in the sun," Justin Childress said.
Guy Mussey, with the Virginia Cooperative Extension's Spotsylvania office, said he's gotten about a dozen calls recently from people thinking they've come across the plant, but those reports have turned into "wild goose chases."
He was contacted by a friend of the Childress family about the situation. That prompted him to visit Print Innovators to look for the giant hogweed.
"I didn't see anything that even resembled giant hogweed," Mussey said Wednesday, adding that he didn't have a clear idea of where the plant might have been on the 11-acre parcel and that if he had more information he'd go back.
In June, a homeowner in Clarke County reported a suspicious plant that turned out to be the first positive identification of giant hogweed in the state, according to the Virginia Department of Agriculture and Consumer Services.
Giant hogweed is a Tier 1 noxious weed on VDACS' Noxious Weed List. That means it is not established in Virginia and the goal is to eradicate it before it becomes established.
Giant hogweed is distinct against Virginia landscapes, according to a press release from VDACS, although it shares some characteristics with the similar-looking plants. It can be confused with such plants as cow parsnip, elderberry, angelica, flowering hemlock and Queen Anne's lace.
The plant can grow up to 15 feet tall with leaves as large as 5 feet across.
Anyone who thinks they have found giant hogweed should take a digital photo of the leaf, stem and flower while maintaining a safe distance. Sightings can be reported to the local office of Virginia Cooperative Extension or to VDACS.