We have our Play-in round winners voter on by, you, the public to be our No. 16 seeds in each region of the bracket: UNC Greensboro, Radford, Murray State and N.C. State.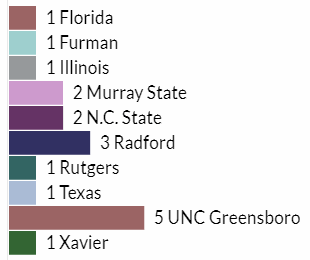 Those teams were then ranked based on their RPI rankings as followed (overall seed in parentheses): N.C. State (61), UNC Greensboro (62), Radford (63), Murray State (64).
The teams were then placed into the 64-team bracket we came up with last week.
Here's some quick information on the teams before voting below.
ROUND OF 64 VOTING
Voting will run until Thursday with the Round of 32 match-ups being posted sometime Friday evening.
SOUTH REGION
Who wins Dayton or Radford?
Who wins Rhode Island or Arizona State?
Who wins BYU or Little Rock
Who wins Saint Mary's or North Texas?
Who wins Gonzaga or Merrimack?
Who wins Wisconsin or Oklahoma?
Who wins Duke or Wright State?
Who wins Michigan State or Yale?
EAST REGION
Who wins Florida State or UNC Greensboro?
Who wins Cincinnati or Akron?
Who wins West Virginia or New Mexico State?
Who wins Houston or Liberty?
Who wins Villanova or N.C. Central?
Who wins Northern Iowa or Saint Louis?
Who wins Louisville or North Dakota State?
Who wins LSU or Eastern Washington?
MIDWEST REGION
Who wins Kansas or Murray State?
Who wins Seton Hall or Belmont?
Who wins Kentucky or Hofstra?
Who wins Oregon or Winthrop?
Who wins Butler or Providence?
Who wins San Diego State or UC Irvine?
Who wins Richmond or Marquette?
WEST REGION
Who wins Baylor or N.C. State?
Who wins Wichita State or Ohio State?
Who wins Maryland or Colgate?
Who wins Virginia or Vermont?
Who wins Auburn or Praire View A&M?
Who wins Colorado or Utah State?
Who Wins Creighton or Siena?
Who wins East Tennessee State or Stephen F. Austin?