The "Louisa Loonies" do it again, winning their second straight round, this time breaking the 1,000-vote barrier. Defending champion, the "Knights Watch" from Spotsylvania and inaugural champions (2017) "Orange Fever" from North Stafford also showed well rounding out the top three this week.
Overall, the voting numbers rose by about 1,500 votes so the steam is building as we enter round three this week with 18 school's advancing and two being eliminated.
We regretfully say our goodbyes to Orange's "The Sworm" and Fredericksburg Christian's "Eagles Nest" after the second round. Both will I'm sure continue to support their teams wholeheartedly the rest of the season with next challenge in their sites.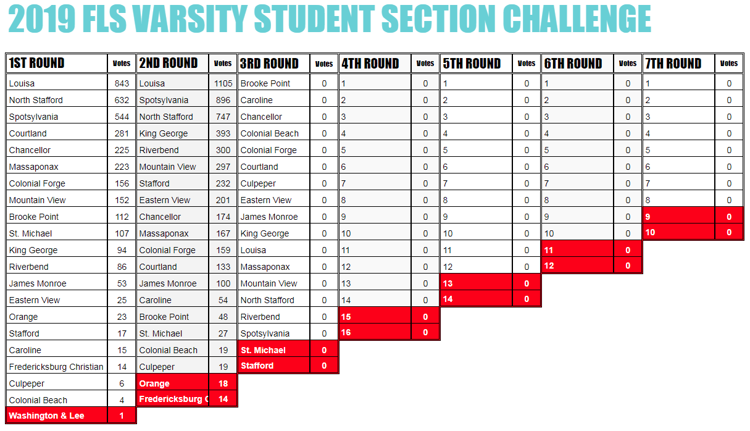 New this week, we have our overall vote standings running in this post below. The overall vote standings will be used to determine the seeding once the single-elimination Bracket Rounds (Quarterfinals, Semifinals and Final) begin once we're down to our final eight teams.
If the Quarterfinals began today, the "Louisa Loonies" would be the top seed and would face No. 8 "Massaponax Maniacs," with the following match-up rounding out the field: "Knights Watch" vs. "Charger Chaos" (Chancellor), "Orange Fever" vs. "Cougar Den" (Courtland) and "Foxes Den" (King George) vs. "Wildcat Crazies" (Mountain View).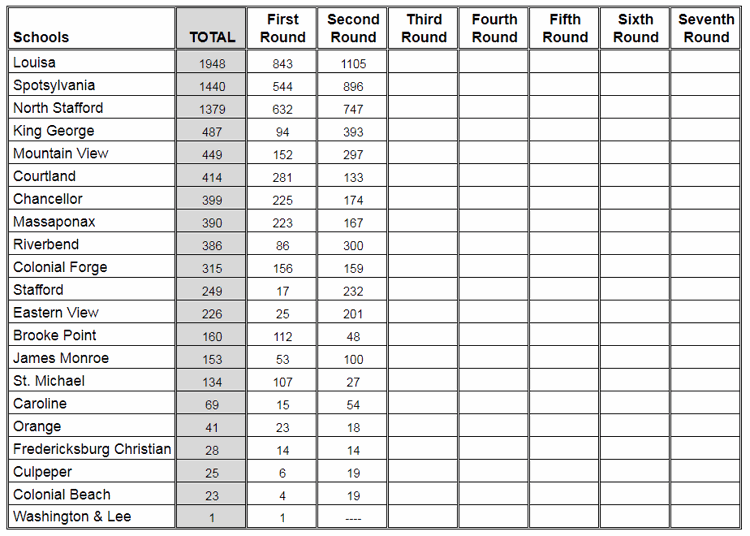 But there's still plenty of time for that to change with five more rounds to go until the Quarterfinals begin. So don't give up hope if you're not at the top. Let you school spirit shine through and help lead your school to victory in this week's Third Round. Every vote counts!
So, don't leave this post without voting in the third-round poll below.
THIRD ROUND: Which school has the best student section in the Fredericksburg area?
---
SOME CHALLENGE DETAILS
Below is a quick look at how many teams will be eliminated each round and how many will advance. Click Here to review the full rules and format explanation.
PRELIMINARY ROUNDS
| | | |
| --- | --- | --- |
| ROUND    |   TEAMS ELIMINATED   |   TEAMS ADVANCING   |
| First | 1 | 20 |
| Second  | 2 | 18 |
| Third | 2 | 16 |
| Fourth | 2 | 14 |
| Fifth | 2 | 12 |
| Sixth | 2 | 10 |
| Seventh | 2 | 8 |
BRACKET ROUNDS
| | | |
| --- | --- | --- |
| ROUND |   TEAMS ELIMINATED   |   TEAMS ADVANCING   |
| Quarterfinals    | 4 | 4 |
| Semifinals | 2 | 2 |
| Final | 1 | 1 (Champion)  |
---
FIRST-ROUND POST
It's that time of year again! Time to kickoff the voting for this year's FLS Varsity Student Section Challenge.
This week's first round will involve all 21 Fredericksburg-area high school with football programs, with one school eliminated each round at the conclusion of voting following next Friday's games.
The remaining 20 teams will advance to the second round.
Now remember what this event is all about . . . students, faculty—current and former—and anyone who follows high school football in the area supporting their schools and high school football the best way possible . . . Positive energy and support for their school.
The focus should be on supporting your school, not encouraging negativity toward other schools. So, put your best foot forward and let the best school win!
---
SECOND-ROUND POST
A very nice turnout for the opening round of voting has yielded us our 20 second-round schools and the "Louisa Loonies" as our first-round champion with 843 votes, more than 200 more than runner-up and 2017—the inaugural Challenge—overall champion, the "Orange Fever" of North Stafford.
Complete first-round results and with schools advanced can be seen below.
Can the Loonies continue their early voting rampage, or will the rest overtake them as we move forward?
With every team that advances, there is also some that don't. In this case just one, Washington & Lee's "Blue Crew." In our upcoming rounds, two teams will not be moving on—as can be seen lower down in this email—until we sit with eight teams remaining.
Expect the voting to only get more tightly contended as the football season goes on and let the best student section win!